A Car is waiting for You from MCB:
The most popular bank of Pakistan is now offering "MCB Bank Car4U" for job holders and small businessman. The car buying is a big deal and only come true with heavy money. But here is the solution by MCB bank, that you have the loan facility to buy and new or used car and pay the further payments in Installments. "Kahin Na Kahin Tau Hai Aik Car4U" is new offer from MCB Pakistan to finance a car for you. Its hard to make a ride without convince so a light and cheap car is needed that may be used for new one. Muslim Commercial Bank Pakistan is here offering a new offer for you to hire a Car for you. The plan of MCB Bank Car 4 U make it easy for every one to get a new car in affordable parts.
What is MCB Bank Car4U Scheme in Pakistan:
You can Finance up to PKR 6 Million to get a Brand new car and & 4 Million PKR will will be for Used Cars. Financing term is from 1 to 7 years for New Cars & 5 years for Old Cars to get from MCB Bank.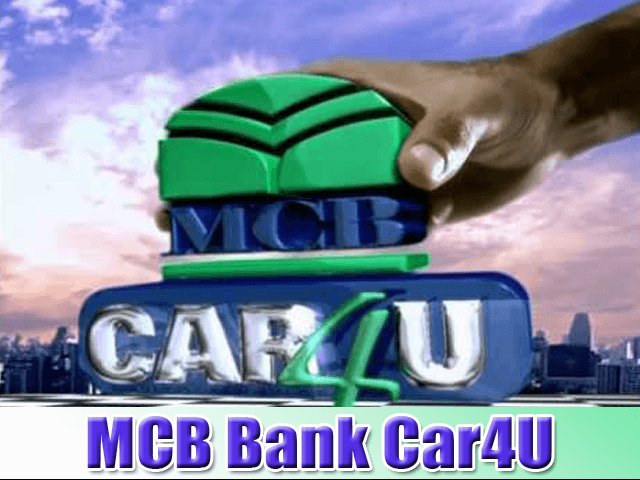 Why to Get a Car Car4U by MCB.
What is the down payment of Car loans from MCB banks.? Many reasons and facts make it a more flexible plan to get a new car for me. Because this is an Affordable plan with a Minimum 20% down payment Standard to get a car.
And you have not to wait for a long time-wasting process for application and you will get your vehicle very fast from MCB. The Car4U application process is very fast in MCB banks. This car loan scheme plan of MCB Bank Car4U is cheap and in the range of each job holder easily.
Benefits to Get an MCB Bank Car4U Plan:
The biggest advantage of this plan is that No processing fee if the case is turned down by you.
You have to a Down payment that is payable only after the loan application is approved by Banking Pk.
MCB Car 4 U is available in These Cities:
The time the MCB bank offers MCB Bank Car4U plan in the following cities:
Karachi, Lahore, Faisalabad, Sialkot, Gujranwala, Hyderabad, Multan, Peshawar, Sahiwal, Sargodha, Quetta, Jhelum, Abbottabad, Mirpur Azad Kashmir, Rawalpindi, Islamabad, Taxila , Bahawalpur, Rahim Yar Khan, Sukkur, Gujrat, Okara, Kamoke, Daska, Sambrial, Lalamusa, Jallalpur Jattan, Khurrianwala, Sadhoki, Ghakkar.
Existing Customers mark-up rates Facility:
A great advantage is for already MCB customers that you can buy lower mark-up rates if you are a. The Interest rat on buying car from Muslim Commercial Bank is very low.
The existing MCB Bank account holder can avail of this facility in major cities and areas in addition to the above through a Banking network of about 1,000 branches found all over Pakistan. you can find MCB car financing details on the official website of MCB Bank.
How Apply for MCB Car4U Scheme?
The complete detail can be inquired from the nearest MCB bank or you can  Call MCB Help Line 111-000-622. MCB online sales staff give you complete information on you doorstep to assist to avail of the MCB Car4U package.
Note: You can only apply and get approved for the MCB Bank Car4U loan offer if you are fulfilling the complete Criteria assigned by the Banking management staff.