National Savings of Pakistan (www.savings.gov.pk) have announced the Prize bond draw schedule for the year 2023 recently. According to the schedule, a total of 32 draws will be held in all cities mentioned here with different dates 15 days later to each other.
The total prize bond denominations like prize bond 100, 200, 750, 1500, 7500, 15000, 25000, and Prize Bond Schedule of Premium Prize bond 40000 will be held in Lahore, Rawalpindi, Faisalabad, Karachi, Multan, Hyderabad, Quetta, Peshawar, and Muzaffarabad cities listed in the below table.
Prize Bond Schedule 2023 National savings Prize bond draw list:
The Prize Bond Draw Schedule 2023 will give you the whole chart of specific denomination prize bond dates and cities, which will help in finalizing your tasks to invest.

All days are subject to the presence and if the special announcement day has a Public holiday then the draw will be held in next day. See here for Prize Bond Draw Schedule 2023 complete with dates, cities, and draw no online. 
This Prize Bond Schedule will help you to touch the dates and venues where the draw will be going to hold and you can put it as your reference.  All the savings prize bondholders have many types of National Saving Prize Bonds that are announced date-wise and turn-wise in each city of Big areas. See all Prize Bond Schedule 2023
National Savings Prize Bond Draw Schedule 2023 Complete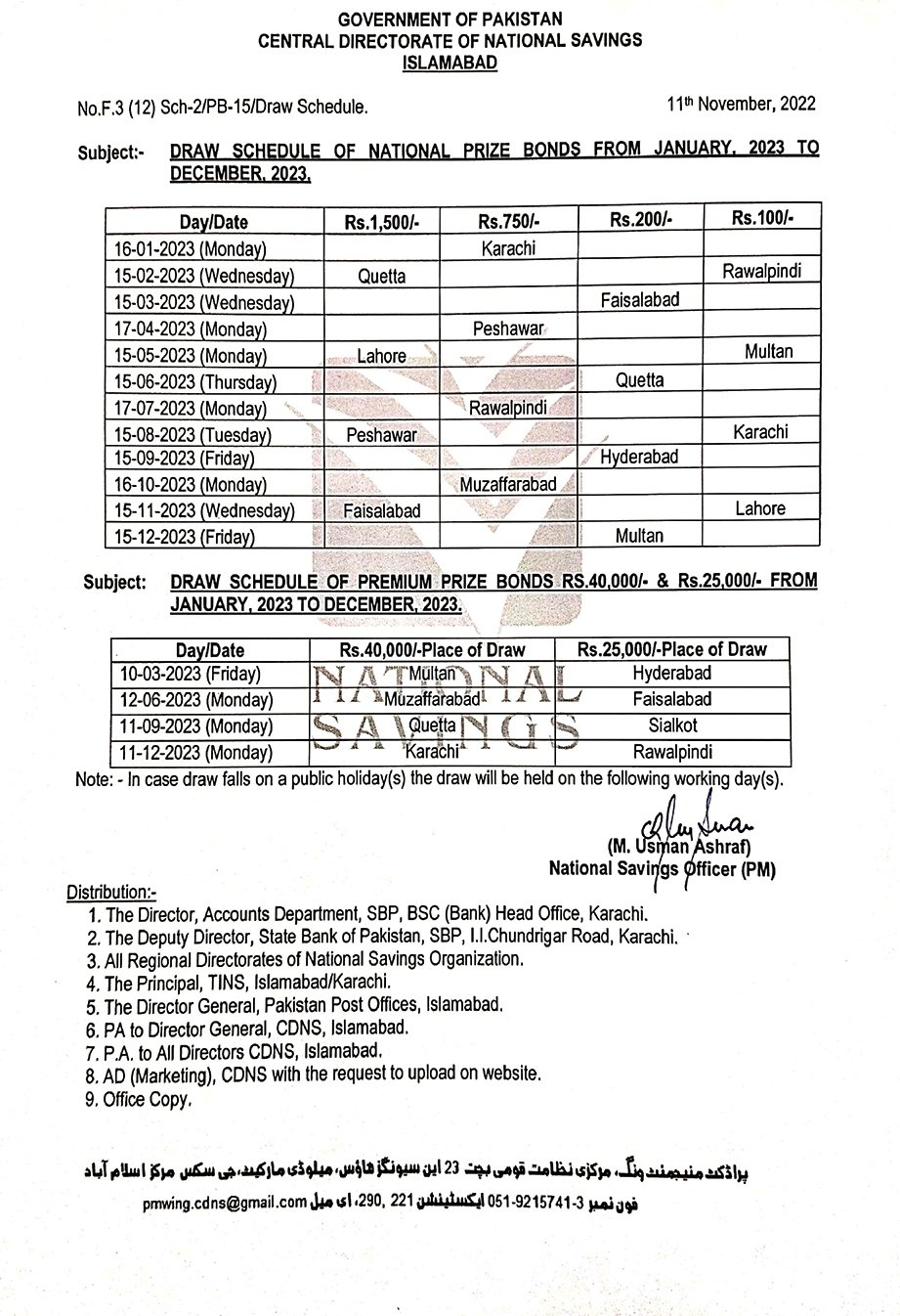 Prize Bond Draw Schedule 2023
| | | | |
| --- | --- | --- | --- |
| PRIZE BOND | DRAW DATE | DAY | CITY |
| Rs.750/- | January 16, 2023 | Monday | Karachi |
| Rs.1500/- | February 15, 2023 | Wednesday | Quetta |
| Rs.100/- | February 15, 2023 | Wednesday | Rawalpindi |
| Rs.25000/- | March 10, 2023 | Friday | Hyderabad |
| Rs.40000/- | March 10, 2023 | Friday | Multan |
| Rs.200/- | March 15, 2023 | Wednesday | Faisalabad |
| Rs.750/- | April 17, 2023 | Monday | Peshawar |
| Rs.1500/- | May 15, 2023 | Monday | Lahore |
| Rs.100/- | May 15, 2023 | Monday | Multan |
| Rs.25000/- | June 12, 2023 | Monday | Faisalabad |
| Rs.40000/- | June 12, 2023 | Monday | Muzaffarabad |
| Rs.200/- | June 15, 2023 | Thursday | Quetta |
| Rs.750/- | July 17, 2023 | Monday | Rawalpindi |
| Rs.1500/- | August 15, 2023 | Tuesday | Peshawar |
| Rs.100/- | August 15, 2023 | Tuesday | Karachi |
| Rs.25000/- | September 11, 2023 | Monday | Sialkot |
| Rs.40000/- | September 11, 2023 | Monday | Quetta |
| Rs.200/- | September 15, 2023 | Friday | Hyderabad |
| Rs.750/- | October 16, 2023 | Monday | Muzaffarabad |
| Rs.1500/- | November 15, 2023 | Wednesday | Faisalabad |
| Rs.100/- | November 15, 2023 | Wednesday | Lahore |
| Rs.25000/- | December 11, 2023 | Monday | Karachi |
| Rs.40000/- | December 11, 2023 | Monday | Rawalpindi |
| Rs.200/- | December 15, 2023 | Friday | Multan |
Other Prize bond results: