Alfalah Bank Personal Loan.
Alfalah Bank provides you with a personal loan for your prosperity, a daughter's wedding or to continue the higher education of your children. The Alfalah Personal Loan is for all who have jobs or have a requirement of money for a special time period.  You can get a loan easily from bank alfalah branches all over Pakistan because Alfalah Bank Personal Loan cares about its customers. So visit your nearest Bankalfalah branch to get a personal Loan. What amount of money loaned and what interest will you pay can be calculated by the personal loan calculator Alfalah Bank.  The basic characteristics of Bankalfalah loan are the following,
It requires no security.
The minimum amount of the loan is PKR 50,000/-
The maximum amount of loan is Rs 3,000,000/-
The amount of the loan is repaid in a 1-4 year time period.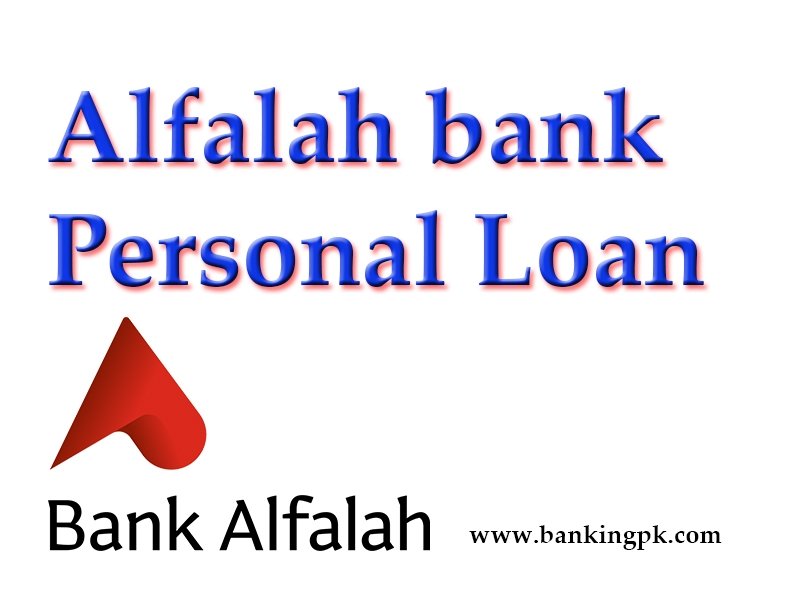 Alfalah Bank's Loan Products and Calculators: Details about Personal Loans and Interest Rates in Pakistan
Alfalah Bank, a leading financial institution in Pakistan, provides a range of loan products, including personal loans and credit card options. These offerings are complemented by various online tools that help potential borrowers understand their financial commitments. One such tool is the Alfalah Bank loan calculator, which allows users to input their desired loan amount, interest rate, and loan tenure to calculate monthly payments. This calculator is an invaluable aid for budgeting and planning.
The Alfalah Bank loan portfolio encompasses diverse options for individual and business needs, and the Alfalah Bank personal loan is particularly popular. With attractive interest rates and flexible repayment schedules, it's designed to suit various financial scenarios. The application process is streamlined, and the eligibility criteria are inclusive, making it a go-to option for many.
For those interested in personal loans, the Alfalah Bank personal loan calculator and Alfalah personal loan calculator are handy tools that enable estimation of monthly payments and total interest payable. They help borrowers make informed decisions and understand their financial obligations better. The calculators are easily accessible online and add to the overall convenience of the loan process.
If credit cards are more in line with your needs, Alfalah Bank offers a unique bank alfalah credit card limit calculator. This tool helps you understand your credit limit and manage your spending within those boundaries. It's another example of how Alfalah Bank strives to provide clarity and control to its customers.
Alongside these calculators, Alfalah Bank also provides transparent information about their loan interest rates. The Bank Alfalah loan calculator and bank alfalah loan interest rate details help prospective borrowers calculate monthly installments for various loan products. This transparency makes the borrowing process more comprehensible and manageable.
In conclusion, Alfalah Bank's wide range of loan products, including Alfalah personal loans and credit cards, caters to the financial needs of a diverse customer base in Pakistan. The addition of specialized tools such as the personal loan calculator, loan interest rate calculator, and credit card limit calculator further enhances the borrower's experience. Whether you are new to borrowing or an experienced customer, Alfalah Bank's offerings are tailored to your unique requirements, making the entire process simple, transparent, and user-friendly.
Main Features to Choose Alfalah bank Personal Loan?
Tension-free process of getting a loan with minimum documentation.
Reasonable interest rate.
You can pay your loan amount in installments but does not exceed 6 installments.
Top up the loan amount according to your income.
Many other repayment options

Non-Checking Account
Direct Debit
Cross Cheque
Drop Box
ATM
Internet Banking
Mobile Banking
Cash Payment at Branches
You can increase your loan limit if you have more than one source of income.

With balance transfer facility you can make loan payment or credit card payment to other bank by getting one installment loan.

If you are already bankalfalah customer then you can enjoy special offers and discounted interest rates on loan.
Alfalah Bank Personal Loan Markup Rate
Alfalah Bank offers competitive markup rates for personal loans, making it an attractive option for borrowers. The rates depend on various factors like loan tenure and borrower's credit score, and they are structured to suit different financial needs.
Alfalah Bank Personal Loan Calculator
The Alfalah Bank Personal Loan Calculator is a handy tool available online. By inputting the loan amount, interest rate, and tenure, borrowers can easily calculate their monthly payments. It aids in planning and helps in making an informed decision.
Alfalah Bank Personal Loan Application
Applying for a personal loan at Alfalah Bank is a straightforward process. The application can be submitted online or at a local branch. Necessary documents include a valid ID, proof of income, and other relevant paperwork.
Alfalah Bank Personal Loan Requirements
To qualify for a personal loan at Alfalah Bank, you must meet specific requirements, such as having a stable income and a good credit history. Certain age and nationality criteria might also apply, ensuring that the loan aligns with the borrower's capability to repay.
Alfalah Bank Personal Loan Eligibility Criteria
Eligibility for Alfalah Bank's personal loans depends on various factors including age, income, employment type, and creditworthiness. Meeting these criteria ensures a smooth loan processing and approval process.
Alfalah Bank Personal Loan Helpline/Contact Number
For any queries related to personal loans, Alfalah Bank provides a dedicated helpline. Customers can reach out through the toll-free number or visit a nearby branch for personalized assistance and guidance. Bank Alfa helpline# 042 111 225 224. Premier banking helpline# 021 111 225 226.
Alfalah Bank Personal Loan Form Download
The application form for a personal loan from Alfalah Bank can be downloaded from the bank's official website. It can be filled out electronically or printed and submitted at a local branch.
Alfalah Bank Personal Loan Information
Information about Alfalah Bank's personal loans can be easily found on their website or by visiting any branch. It includes details on interest rates, terms, fees, and other essential aspects that a potential borrower must know.
Bank Alfalah Personal Loan Terms and Conditions
The terms and conditions of Alfalah Bank's personal loans are clearly laid out in the loan agreement. It covers essential details like repayment terms, early settlement charges, and the responsibilities of the borrower, ensuring full transparency.
By addressing each of these key aspects, Alfalah Bank provides a comprehensive suite of options and information for personal loans. Whether you're a seasoned financial professional or a local community member in Pakistan, these offerings are designed to be accessible and clear, supporting various financial goals and needs.
Loan Subscription
Cash Loan:

You can get Loan in the Form of cash to fulfill your needs.

Balance Transfer Facility:

You can get BTF facility of one installment loan for payment of other bank loan or credit card payments.

Top up BTF:

You can fulfill you financing requirements with top up BTF without applying for another loan.
Documentation needed
Loan Application Form
A duplicate of the Computerized National Identity Card (CNIC).
For Job holder persons, Salary slip and 06 month bank statment.
For business people, 06 month bank statement.
Fee Schedule
Processing Fee
PKR 3,000 or 1% of the loan amount whichever is higher
Early Settlement Fee
1st year
2nd year
3rd year onwards
10% of the remaining principal
8% of the remaining principal
5% of the remaining  principal
Partial Prepayment Fee
1st year
2nd year
3rd year onwards
Not allowed
8% of the paid amount
5% of the paid amount
Late Payment Fee
PKR 600 per month per installment
Cheque Return Charges
PKR 600
Enhancement Fee
PKR 2,000